790710_BIG
Aluminum switch boxes painted with epox powder black, supplied complete with universal adjustable brackets for assembly on our full range of actuators (L=30×80/130-H=20/30).
This device is particularly suitable for monitoring the position of each valve, even at long distances, it can contain mechanical or proximity limit switches.
Tridimensional position indicator yellow/red and 8 wire points standard (two free for eventual electrovalve attachment in box).
There is plenty of room to facilitate all wiring procedures, on installation.
Screws on the box cover are self-locking and unlosable, cam easy to set without tools, don't need any further adjustment after initial setting.
Certification: II2G Ex d IIB T6
Protection grade: IP66
Nr. 2 M20x1.5 electrical connections
Terminal strip: 8 posti
Position indicator: 0° ÷ 90°
Open / Closed: Yellow / Red
STANDARD MATERIALS:
Cover: Aluminium alloy.
Body: Aluminium alloy.
Shaft: Stainless steel.
Indicator cover: Polycarbonate.
Indicator: ABS, polycarbonate.
Limit switch: – .
Terminal strip: Polycarbonate, brass, stainless steel.
Cam: Polycarbonate.
Spring: Stainless steel.
Cover bolts: Stainless steel.
O-ring(Shaft): NBR.
O-ring(Body): NBR.
O-ring(Indicator): NBR.
Bushing: Bronze.
Earthing screw: Stainless steel.
TIPO
FINECORSA
PRODUTTORE DEL
FINECORSA
LIMIT SWITCH CODE
ATEX IDENTIFICATION
CONTACTS
FUNCTION
N° WIRES
VOLTAGE
INTENS
FREQUENZA DI
COMMUTAZIONE
TEMPERATURE
N° SCHEMA DI
CABLAGGIO
N° OF LIMIT SWITCH
CODE
MECCANICO
MECHANIC
Honeywell
ZM50G10B01
-
Argentati
Silver
SPDT
3
125 ÷ 250 VAC
16 A
-
-25°C ÷ +80°C
1
2
790710 85600
INDUTTIVO
INDUCTIVE
P+F
NBB2-V3-E2
-
-
PNP
3
10 ÷ 30 VDC
0 ÷ 100 mA
0 ÷ 1000 Hz
-25°C ÷ +70°C
2
2
790710 86000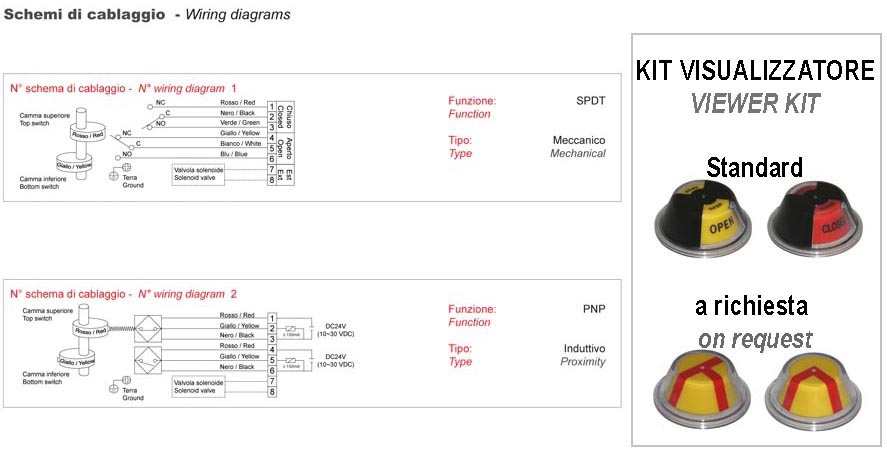 Articoli correlati