790700
Series of spool valves, with static seals and high flow for mounting on NAMUR interface.
Coil and connectors separately.
Function 3/2 can be achieved by applying the special plug supplied standard in the kit.
MATERIALS:
Heads: Plastic materials.
Body: Aluminium.
Spool: Chemical nickel aluminium.
Distancer: Plastic material.
Seals: NBR.
For ATEX cable wired 3-wire, length 3 meters.
MODE OF OPERATION:
Fluid: Compressed filtered air.
Pressure range: 1 ÷ 10bar.
Temperature range: -10°C ÷ +60°C.
Ø Orifice: 7 mm.
Flow: 1000 litri/minuto.
Degree of protection: IP65
Minumun piloting pressure: 1,5 bar.
Manual override: Two stable position: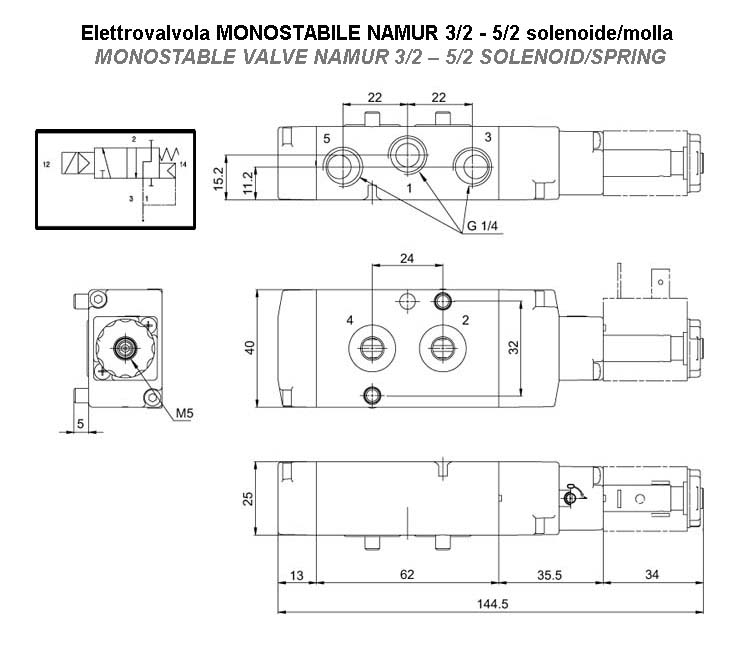 DENOMINATION
ATEX
Indicazione LED
CODE
3-5/2 24V-DC
48V-AC/50HZ
NO
SI / YES
790700 80530 3D
3-5/2 24V-AC/50HZ
NO
SI / YES
790700 80550 3D
3-5/2 110V-AC/50HZ
NO
SI / YES
790700 80570 3D
3-5/2 220V-AC/50HZ
NO
SI / YES
790700 80580 3D
3-5/2 24V-DC
II 2 G Ex mb II C T 5
II 2 D Ex tb III C T 95° C
NO
790700 82030 3D
3-5/2 24V-AC/50HZ
II 2 G Ex mb II C T 5
II 2 D Ex tb III C T 95° C
NO
790700 82050 3D
DENOMINATION
ATEX
CODE
3-5/2 24V-DC
48V-AC/50HZ
NO
790700 81030 
3-5/2 24V-AC-50HZ
NO
790700 81050 
3-5/2 110V-AC/50HZ
NO
790700 81070 
3-5/2 220V-AC/50HZ
NO
790700 81080 
3-5/2 24V-DC
II 2 G Ex mb II C T 5
II 2 D Ex tb III C T 95° C
790700 82230 
3-5/2 24V-AC/50HZ
II 2 G Ex mb II C T 5
II 2 D Ex tb III C T 95° C
790700 82250 
Articoli correlati